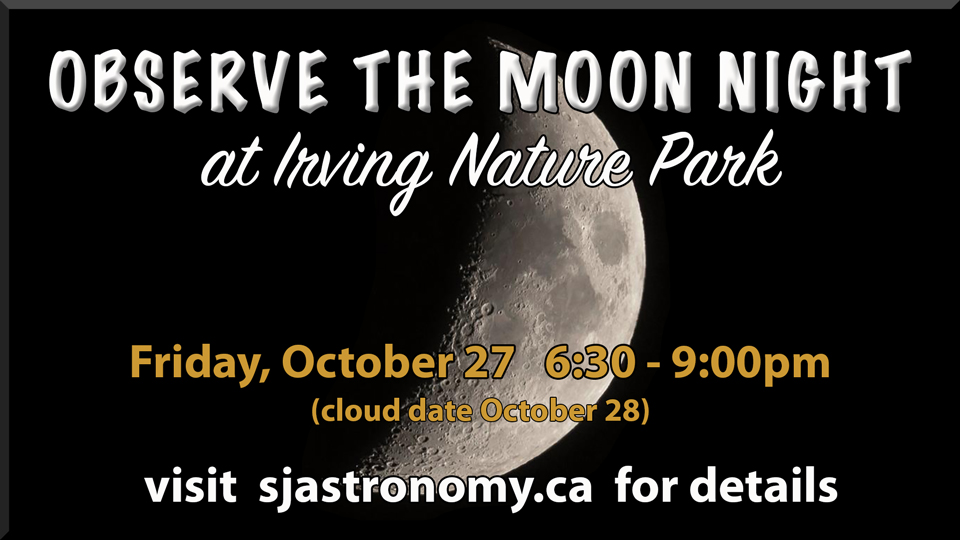 Event: International Observe the Moon Night at Irving Nature Park
Where: Observing Area, above the Interpretative Shelter at Irving Nature Park, Saint John
When: Friday, October 27, 2017 6:30 – 9:00pm (cloud date Oct. 28)
Admission: Free
Parking: Parking lot at the Interpretative Shelter
Facebook Event: Observe the Moon at Irving Nature Park
Enjoy an evening of Moon-watching and stargazing with members of the RASC NB provincial astronomy club. Starting at 6:30 PM with a brief welcome at the observing field above the Interpretive Shelter, we will follow with spectacular views of the first quarter Moon and the rings of Saturn through various telescopes and binoculars. Soon after, the legends of Greek mythology appear as constellations to share their stellar wonders within. See the Double Cluster of Perseus, the Andromeda Galaxy (which is on a collision course with our Milky Way…in a few billion years), and Cassiopeia will show you where film legend ET calls home. Some telescopes will be equipped with adapters to allow you to capture close-ups of the Moon with your phone camera. The amateur astronomers will be happy to show you the constellations and answer your questions on telescopes and stargazing. Please park in the lot beside the Interpretive Shelter.
As with all park events, this is offered free of charge by J.D. Irving, Limited. Don't forget to bring a mug for hot chocolate, and bring an extra layer or two as the park is chilly this time of year. If it is cloudy we will try again on Saturday, October 28.
Questions? Please contact the park at (506) 653-7367
Don't miss it~
This event presents a beautiful way to close out October. Irving Nature Park is an ideal place to unwind, photograph, walk, hike and explore. The observing area overlooking the Bay of Fundy, accompanied by views of the Moon and stars, provides great way to end your day and enjoy the last weekend in October.
Location~
Other astronomy events at Irving~
Moonlight Snowshoe Walk 2017
National Star Party at Irving Nature Park
Partial Solar Eclipse in Saint John

---
FYI: The photo of the Moon used in the graphic at the top of this page was taken by Paul Owen of the Saint John Astronomy Club. Paul is offering a free astronomy course Photographing the Night Sky this November, every Tuesday night 6:30 – 9:00 PM at the Rockwood Park Interpretation Centre. You can find more info including how to register by going to the Page. You can also check out the Facebook Event.
---