SJAC Interview about Outreach on LocalFM.ca~
Chris, Matt, and Amelia from the Saint John Astronomy Club visit Rebecca on the Radio for a chat about what is going on with amateur astronomy in Saint John, New Brunswick. Check out her show on 107.3 FM, Saint John, LocalRadio.ca. Great stuff!
Outreach for the SJAC is a year round project. Whether in a public or in a more private setting (such as to schools, classrooms, or groups), it is a big part of the New Brunswick astronomy experience. In 2016 RASC NB hosted 219 Outreach Events, reaching 9498 adults and children and involving almost 1000 volunteer hours. Not bad for a Province of under 750,000 people!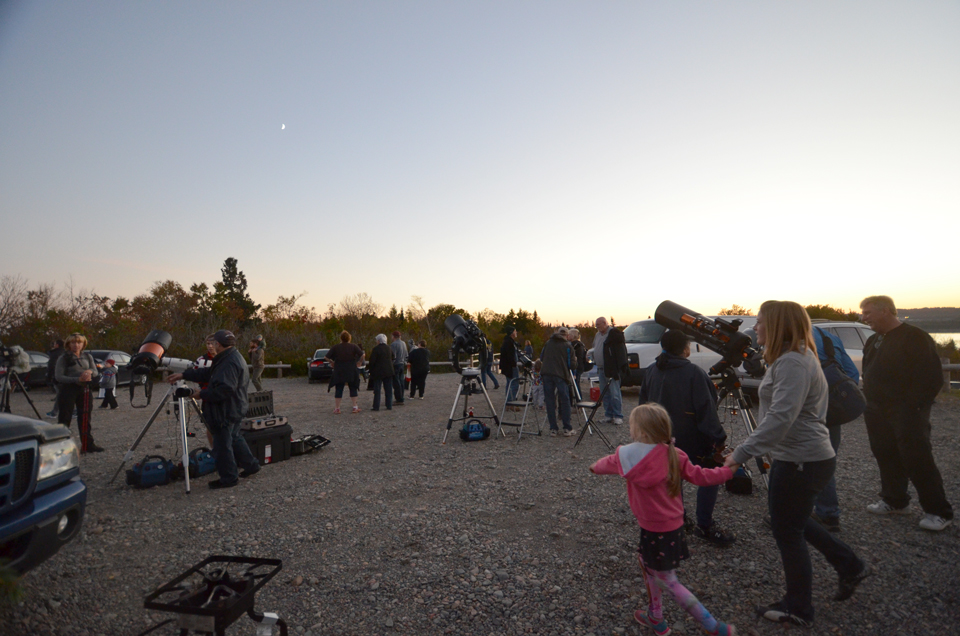 Excitement always abounds at any nighttime Observing Event. Above and below ~ Irving Nature Park in September 2016.

The National Star Party at Irving Nature Park in 2017 was a big hit.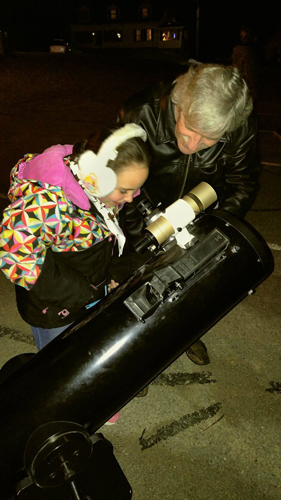 Summer or winter, Outreach is year round. Some of the best viewing can be had in a winter sky, and since it gets dark earlier, it also works out better for school hours.

Activities can vary from Presentations, Night Observing, Day Observing, Youth Groups, School Talks, Exhibitions, and Observatories or Planetariums.
Videos~

From our YouTube Channel~ The two videos above  and the Thank You video below from Astronomy by the Bay will give you an idea of the scope of the various activities RASC.NB and the SJAC offer~

---
Stats for Winter Outreach Events~
As Spring 2017 arrives, we start to say goodby to the winter sky, the incredible beauty of the Winter Constellations, and a very active Winter Outreach Season.
Here are the Province-wide Outreach Stats from RASC.NB, Jan 1 through March 20, 2017.
As you can see, it includes 73 Outreach Events, reaching 2583 people and including 439 volunteer hours. Click picture for a larger view in pdf.

Stats for 2017 Outreach Events up to May, 2017~
---
A different kind of Outreach~
A Facebook Live Feed provides a unique opportunity for people all across Canada and the globe to look through telescopes. Chris Curwin from Astronomy by the Bay has been sharing his views and the results are astounding. Over 50,000 views from April 2 to August 13, 2017! You can view the figures on our Stats page.
---
 Regarding Photography & Outreach:
We do not publish any photos of a Private Outreach Event without your consent or permission.

The Royal Astronomical Society of Canada~New Brunswick Centre (RASC.NB) is involved in Outreach Events all across the Province. For more information or to ask about scheduling an Outreach Event at your school or location you can email Curt Nason or Facebook Chris Curwin at Astronomy by the Bay.
---
See also~
Outreach~ Summer 2017
Outreach~ Spring 2017
Outreach~ Winter 2016-17
Outreach~ 2016
Partial Solar Eclipse in Saint John
National Star Party at Irving Nature Park
Moonlight Snowshoe Walk
Astronomy Day in Rockwood Park