Outreach for the SJAC is a year round project. Whether in a public or in a more private setting (such as to schools, classrooms, or groups), it is a big part of the New Brunswick astronomy experience. These are in addition to the five major Star Parties in New Brunswick.
In 2016 RASC NB hosted 219 Outreach Events, reaching 9498 adults and children and involving almost 1000 volunteer hours. These numbers have continued to grow as you can see on the graph towards the bottom of this page. Not bad for a Province of under 750,000 people!
Rockwood Park~
Rockwood Park in Saint John is one of the largest and most diverse urban parks in North America. An all season natural amusement park, it is part of the Stonehammer Geopark System and the Interpretation Centre is the site of the SJAC monthly meetings, usually the first Saturday of every month.
Below~ part of the crowd during the Partial Solar Eclipse in Saint John. 
See also:
Astronomy Day in Rockwood Park
Partial Solar Eclipse in Saint John
Fall Astronomy Day in Rockwood Park
Irving Nature Park~
The Partial Solar Eclipse (above) was the most successful and well attended public Outreach event in the 17 year history of RASC NB. In Saint John it was observed at Irving Nature Park and Rockwood Park Bark Park.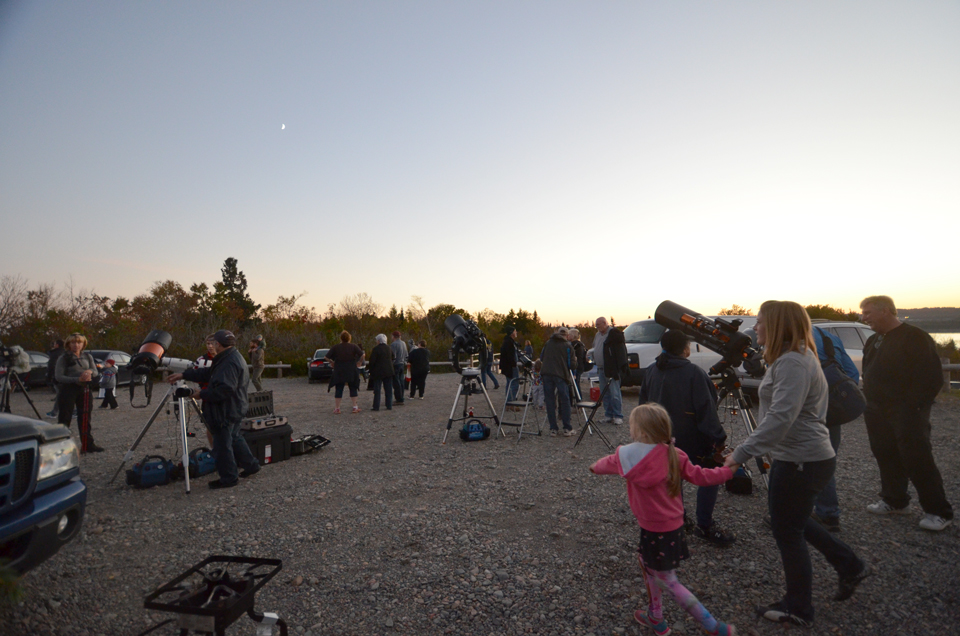 Excitement always abounds at any nighttime observing event. Irving Nature Park is Canada's 1st Urban Star Park, and the staff at this incredible park have always facilitated these nighttime observing events, which are always free and open to the public.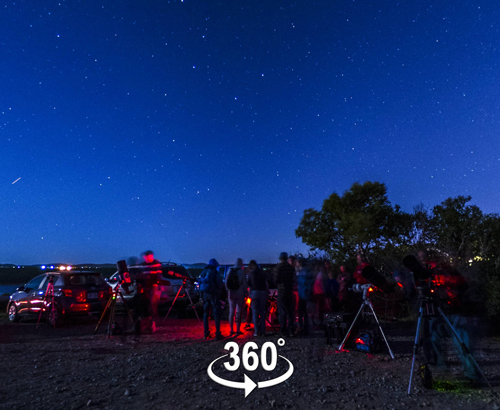 Above~ Have a look around (click the pic, then use your mouse)
See also:
Moonlight Snowshoe Walk
Partial Solar Eclipse in Saint John
National Star Party Irving Nature Park 2017
Observe the Moon Night 2017
National Astronomy Day Irving Nature Park 2018
Fall Astronomy Day at Irving Nature Park
Saints Rest Beach~
Above~ The public getting some views at Saints Rest Beach, which is located on the Bay side as you are entering Irving Nature Park. You can find out more by visiting our page Astronomy by the Bay.
Hampton Star Party~
You can find out more on our page Hampton Star Party at Dutch Point Park.
St. Martins during Old Home Week~
The beautiful village of St. Martins hosts Old Home Week once per year, usually in July. Stargazing at the ball park is a perfect way to cap off the day, whether after visiting the festivities, or exploring the Sea Caves or the Fundy Trail Parkway.
Clubs and Organizations~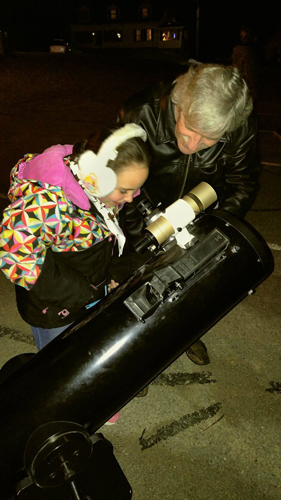 Summer or winter, Outreach is year round. Some of the best viewing can be had in a winter sky, and since it gets dark earlier, it also works out better for school hours.

Schools and Classrooms~
School Outreach activities can vary from presentations, night observing, daytime solar observing, youth groups, school talks, exhibitions, observatories and planetariums.
Above~ Everybody's favourite: showing someone how to take a picture of the Moon with their own phone.
Public Events~
Videos~

From our YouTube Channel~ The two videos above  and the Thank You video below from Astronomy by the Bay will give you an idea of the scope of the various activities RASC.NB and the SJAC offer~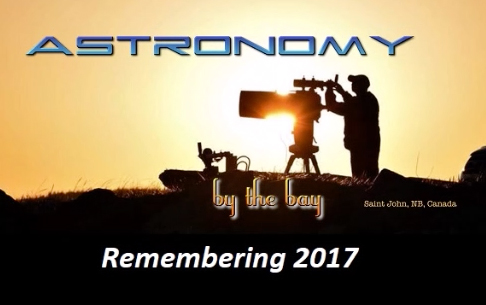 Also, check out the 2017 Thank You Video from Astronomy by the Bay. Chris Curwin clocked an amazing 3,393 people at his scopes in 2017 in addition to the 132,357 that participated in his Facebook Live Feeds.
~SJAC Interview about Outreach on LocalFM.ca~
Chris, Matt, and Amelia from the Saint John Astronomy Club visit Rebecca on the Radio for a chat about what is going on with amateur astronomy in Saint John, New Brunswick. Check out her show on 107.3 FM, Saint John, LocalRadio.ca. Great stuff!
---
2019 Province wide RASC NB Outreach Stats~
~As of September 1, 2019 [click the pic for a larger view]
*Facebook Live Feed numbers are for only during the LiveFeed itself. They do not include people tuning in and viewing at a later time.
---
A different kind of Outreach~
A Facebook Live feed provides a unique opportunity for people across Canada and the globe to look through telescopes. Chris Curwin from Astronomy by the Bay has been sharing his Facebook Live views since 2017 and the results are astounding. Over 325,000 viewers from April 2017 to June 2019! If you're curious, you can view the figures on our Stats page.
---
Star Party Etiquette–for any Star Party, Anywhere~
 Regarding Photography & Outreach:
We do not publish any photos of a Private Outreach Event without your consent or permission.

The Royal Astronomical Society of Canada~New Brunswick Centre (RASC NB) is involved in Outreach Events all across the Province.
How to Schedule an Outreach Event for your Group~
For more information or to ask about scheduling an Outreach Event at your school or location you can email Curt Nason or Facebook Chris Curwin at Astronomy by the Bay.
---
See also~
Outreach~ Fall 2017
Outreach~ Summer 2017
Outreach~ Spring 2017
Outreach~ Winter 2016-17
Outreach~ 2016
Observe the Moon Night
Fall Astronomy Day in Rockwood Park
Partial Solar Eclipse in Saint John
National Star Party at Irving Nature Park
Astronomy Day in Rockwood Park
Moonlight Snowshoe Walk
Hampton Star Party