~August 10 – 11, 2018~
Camping & Observing Weekend, Mactaquac Provincial Park
(west of Fredericton on the Saint John River)

Some fact about Mactaquac Provincial Park~
A river valley park along the Saint John River
5.25 sq. km, or over 1,300 acres of recreational use
Formed as a result of the Mactaquac Generating Station in 1968
Beaches, two marinas (power and sailboat), 18 hole golf course
TreeGO Mactaquac Aerial Adventure
Ten easy to moderate hiking and cycling trails
Over 300 campsites + rustic cabins
Lakeway Houseboat Rentals nearby
Located beside Mactaquac Dam–tours available of the generating station and salmon hatchery (seasonal)
Several waterfalls located not too far away on Hwy 2 (click on map below)-see Waterfalls of NB- Google Maps for complete list.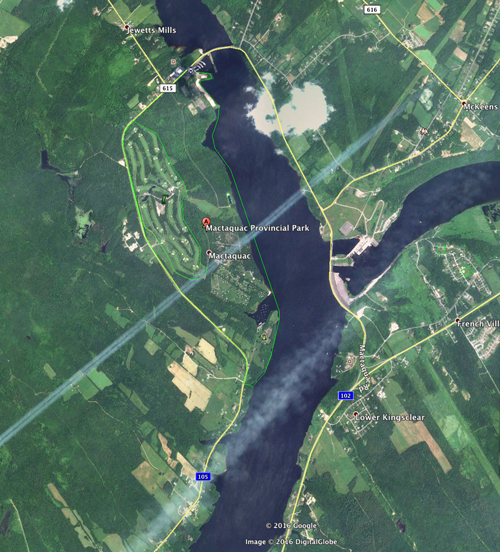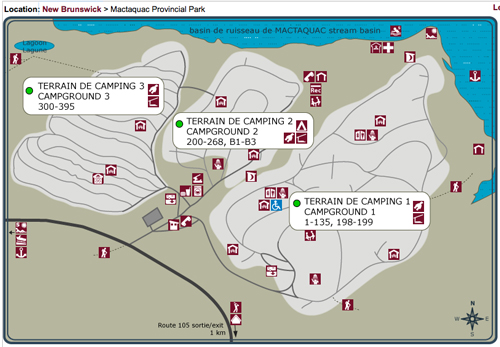 Clicking Park map above opens current available reservation page.
General Park Information~
Telephone:      (Toll-free)~ 1-800-561-0123,  (Office)~ 506-363-4747
Address:         Mactaquac Provincial Park, 1265 Route 105
Mactaquac, New Brunswick, Canada, E6L 1B5
Email~     Mactaquac Provincial Park
Parks New Brunswick Website      Tourism New Brunswick Website
More Info~ HikingNB Trails Lists         Trip Advisor
Facebook
Rates:     $10 – $90
Dates:     Open Year-Round
COW Mactaquac Star Party 2018 Information ~
If you do not have a telescope~ Just show up, or book your camping weekend if you want to be at the campground during the Stargaze.
If you do have a telescope~ Campsite reservations in the astronomers' area will be posted here from RASC.NB.
Some photos from past COW Mactaquac Star Parties~
---
Other Star Parties in New Brunswick~
Kouchibouguac Spring StarFest  ~June 15 – 16, 2018
Mount Carleton Star Party   ~July 13 – 14, 2018
Fundy Park StarGaze   ~August 31 – September 1, 2018
Kouchibouguac Fall StarFest   ~Sept. 14 – 15, 2018
General overview~ Star Parties in New Brunswick
You can also check our Upcoming Events page.