August 11-13, 2017~Mount Carleton Star Party
Mount Carleton Provincial Park
(East of Saint Quentin and west of Bathurst off Hwy 385)
 
 Some facts about Mount Carleton Provincial Park~
Incredible 174 sq km (42,000 acres) of pristine wilderness
Contains the highest peak in the Maritimes, Mount Carleton
Four main mountain peaks and several large freshwater lakes
Excellent canoeing and kayaking on lakes and two rivers
88+ campsites, group camping, cabins and chalets available
Canadian portion of the International Appalachian Trail passes through
Some of the most varied and interesting hiking in North America with 11 hiking trails ranging from wheelchair to strenuous
Known as "One for the Bucket List," "A True Wilderness Park," "The Algonquin of New Brunswick," among outdoor enthusiasts
A Dark Sky Preserve, among the darkest skies in Canada



Clicking Park map above opens current available reservation page.

General Park Information~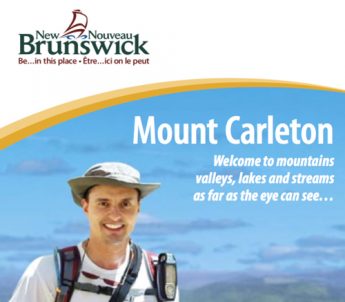 Mount Carleton Brochure
Telephone:      (Toll-free)~ 1-800-561-0123,  (Office)~ 506-235-0793
Address:         Mount Carleton Provincial Park, 7612 Route 385,
Saint-Quentin, New Brunswick, Canada,     E8A 1N4
Email~     Mount Carleton Provincial Park
Parks New Brunswick Website      Tourism New Brunswick Website
More Info~ HikingNB Trails Lists         Trip Advisor
Facebook     Friends of Mount Carleton on Facebook
Friends of Mount Carleton Website    Mount Carleton Trails Map.pdf
Rates:     $10 – $90       Cash only due to remote location
Notes: Cell reception is spotty.  Gates close @8pm. If you are arriving late, phone ahead to 506-235-0793 to see if someone can meet you at the gate. Because of its remote location, this is a park where it pays to check out all the information. Arrive with full tank of gas, extra clothing, food & supplies. Read the Brochure, visit Friends of Mount Carleton, etc.
Dates:     Open May 14 to October 15 for camping
Mount Carleton Star Party 2017 Information~
We will post the links here from RASC.NB once the information becomes available about campsite reservations in the astronomers' area.
---
Other Star Parties in New Brunswick~
Kouchibouguac Spring StarFest   ~June 2-4, 2017
COW Mactaquac Star Party   ~July 29, 2017
Fundy Park StarGaze   ~Sept. 15-17, 2017
Kouchibouguac Fall StarFest   ~Sept. 22-24, 2017
General overview~ Star Parties in New Brunswick
You can also check our Upcoming Events page.