One of the more interesting things you'll find in Saint John is "that guy on the beach with a telescope" at Saints Rest Beach. Astronomer Chris Curwin practices the art of Sidewalk Astronomy, and is often joined by other astronomers (such as Mike Powell, seen pointing out some stars above). Chris calls his outreach and sidewalk astronomy efforts Astronomy by the Bay.
Have a Look Around~
360 pano of a typical June evening at the beach with fellow astronomers and members of the public [click the pic, use your mouse].
Chris clocked an amazing 2,439 people to his scope(s) in 2016, and 3,393 in 2017. He posts on his FB page ahead of time if he is heading to Saints Rest beach. Even if you can't make it down, check out his page–you'll sometimes feel as if you were there. It's interesting and it's fun.
He often hosts Facebook Live Events, and will let you take pictures through the telescope with your phone.

Above and Below–The Moon as seen from Saints Rest Beach and as shot through a telescope.
The relative peace and quiet of Saints Rests Beach on the Bay of Fundy provides an ideal spot to get away from it all and maybe catch a glimpse of some of our celestial wonders in the night sky.
Chris also practices Outreach in classrooms, at private and public star gazing events, and posts information and updates on his Facebook Page.
Check out the Thank You video below, a composite of SJAC Outreach Events and pics from Saints Rest Beach.
Above and below– Chris setting up at the beach and doing some viewing with others. More links to Sidewalk Astronomy and here.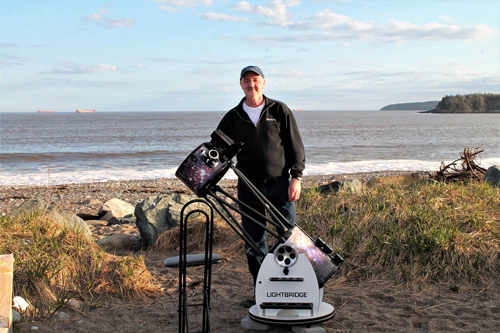 ---
A different kind of Outreach~
A Facebook Live Feed provides a unique opportunity for people all across Canada and the globe to look through telescopes. Astronomy by the Bay has been sharing these views and the results are astounding. Over 130,000 have joined the Facebook Live feed in 2017!
This is Sidewalk Astronomy for everyone. If curious, you can check the figures on our Stats page.
---
Christmas gift ideas for that astronomer in your life~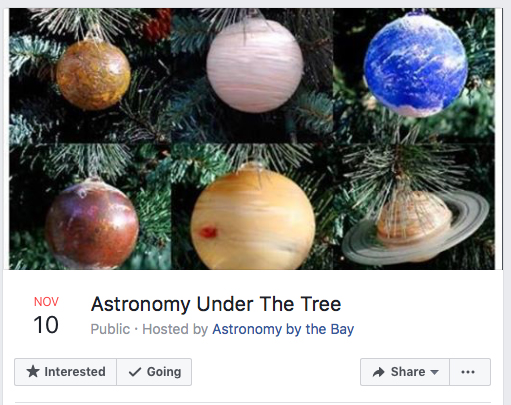 Undecided or wondering what to get that astronomer you know? Here are some gift ideas–everything from magazine subscriptions to equipment–courtesy a video presented by members of the Saint John Astronomy Club and Astronomy by the Bay.
---
Articles from Astronomy by the Bay~
Learning the Night Sky
Star Hopping
Favourite Binocular Targets
"Sign Posts" for Navigating the Night Sky
Europa