Spring is Galaxy Season for astronomers, and is also a great time to share the sky with others while dusk is still early enough for many to enjoy. The Saint John Astronomy Club and RASC.NB share the sky with young and old alike at Outreach Events.

The Moon, as captured by a phone adapter on a telescope, courtesy Chris Curwin, Astronomy by the Bay. Chris can usually make this available to anyone who walks up to his telescope.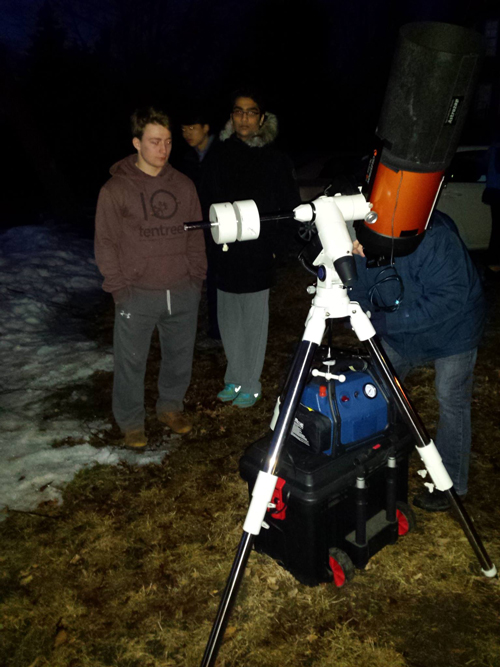 Above: a Solar outreach event June 11 at the Queen Square Farmers Market in Saint John.
---
From January 1 to March 20, 2017, RASC.NB hosted 73 Outreach Events, reaching 2583 people and including 439 volunteer hours. Spring 2017 promises to be a busy season for sharing as well.
---
See also~
Outreach Events
Outreach~ Fall 2017
Outreach~ Summer 2017
Outreach~ Winter 2016-17
Outreach~ 2016

Observe the Moon Night
Fall Astronomy Day in Rockwood Park
Partial Solar Eclipse in Saint John
National Star Party at Irving Nature Park
Astronomy Day in Rockwood Park
Moonlight Snowshoe Walk
---
Regarding Photography & Outreach:
We do not publish any photos of a Private Outreach Event without your consent or permission.

The Royal Astronomical Society of Canada~New Brunswick Centre (RASC.NB) is involved in Outreach Events all across the Province. For more information you can email Curt Nason or Facebook Astronomy by the Bay.