Good Turnout for Snowshoe Walk
With the full moon falling on the weekend and a clear sky, there was a beautiful Moonlit trail to Sheldon Point in Irving Nature Park via snowshoes. As a special bonus, there was also a penumbral lunar eclipse as snowshoers arrived back to the telescopes and The Barn for hot chocolate. Five telescopes from members of the NB Centre of the Royal Astronomical Society of Canada were set up for viewing. For many attendees, they said it was their first view ever through a telescope. What a view!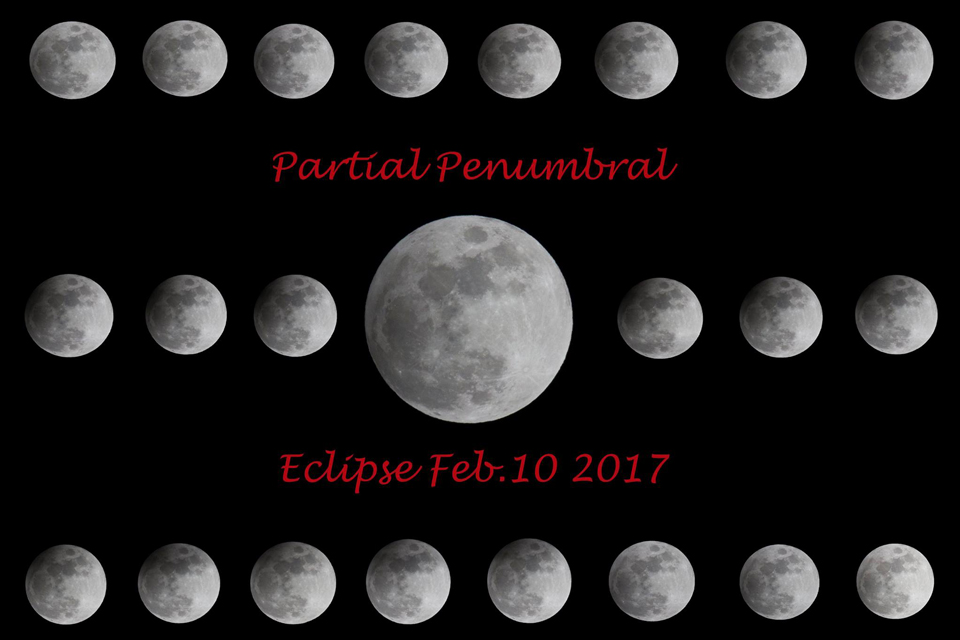 Above~ Astronomer and photographer Paul Owen captured the event from his backyard in Hampton, NB.
Despite a bone chilling night, 107 people showed up and about 45 to 50 had a look at the Moon, Orion, Venus and other celestial wonders.
Below~ A shot Chris Curwin captured at the event using a simple attachment with his Galaxy S4 phone at the telescope eyepiece.

Above and Below~ Setting up by The Barn prior to everyones arrival.

Curt Nason gave a talk out at the Point as what to look for in the night sky, and the discussion continued later back at The Barn. We are grateful for the support and opportunity presented by staff of the Irving Nature Park, with a special thanks to JDI Parks Manager Kelly Honeyman for his hospitality and enthusiasm in such a special place (and for the hot chocolate and cookies).
Where it is~
If you have never been, the Irving Nature Park is a gift. Whether you photograph, walk, hike, explore, unwind after a day or just sit and ponder, the shores and trails leave you wanting more. It is no surprise it has won Tourism Awards. There is also a sister Park– the Irving Eco-Centre on the Northumberland Strait, minutes north of the town of Bouctouche, (north of Moncton, NB).
This was the 13th year the Park has sponsored the popular Moonlight Snowshoe Walk. If you missed this year's event, it usually happens every January or February. No 'shoes?? Contact the Scout Shop (Union St, Saint John) for rentals. Meet at the Sheldon Point Trailhead (AKA The Barn) at 1379 Sand Cove Road. Contact the park at 653-7367 or check Irving Nature Park FaceBook page for updates.
---
See also~
Outreach Events
Outreach~ Summer 2017
Outreach~ Spring 2017
Outreach~ Winter 2016-17
Outreach~ 2016
Partial Solar Eclipse in Saint John
National Star Party at Irving Nature Park
Astronomy Day in Rockwood Park