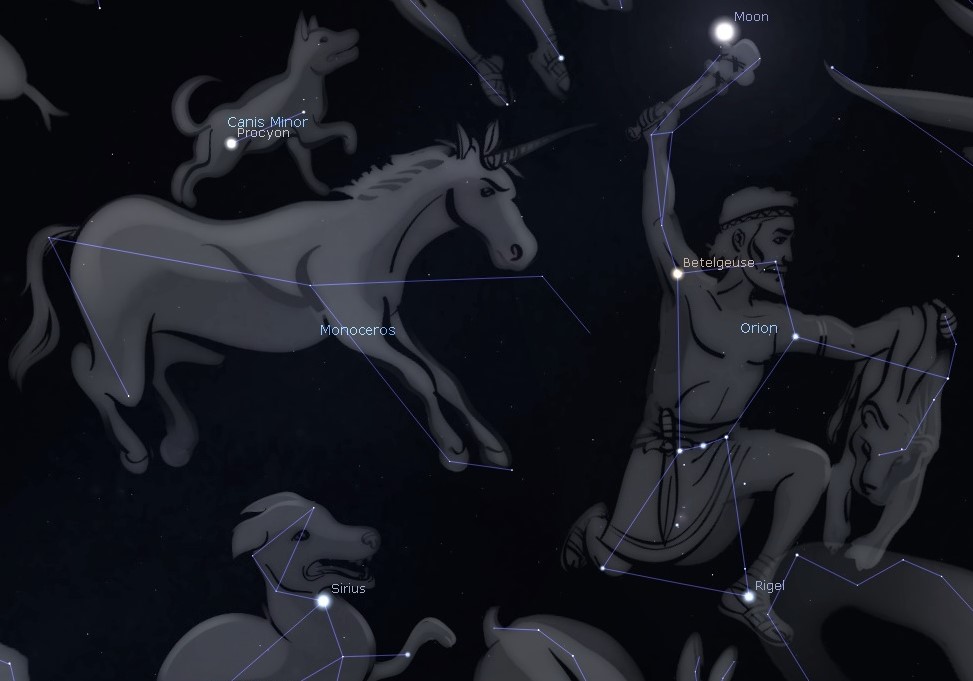 This Week's Sky at a Glance, 2019 March 16 – 23 ~by Curt Nason
As darkness settles in this Sunday evening, and if you are able, go out and raise a glass to the southwest and toast the constellation Orion, the mighty sky-hunter who on this day signs his name as O'Ryan. And if you had dusted off an Irish Rovers record during the day, perhaps you will be hunting the sky for some animals in their signature tune written by Shel Silverstein, "The Unicorn."
You will have no luck finding green alligators, chimpanzees, rats and elephants. Cygnus the Swan is waving part of one wing above the northern horizon, hoping to be picked for a long necked goose. If you check it out in the morning there is a faint constellation below its head called Vulpecula the Fox. Nineteenth century star maps depicted the fox with a goose in its mouth and the constellation was labelled as Vulpecula and Anser. There is no humpy back camel, either, but there is the large and faint Camelopardalis in the seemingly blank sky between Polaris and bright Capella in the northwest. The name means camel-leopard or giraffe.
Cats? Well, there is Leo the Lion in the east, tiny Leo Minor between it and Ursa Major, and elusive Lynx above Ursa Major. Hardly the loveliest of all, Monoceros the Unicorn is to the left of Orion, sandwiched between his bright dog stars Sirius and Procyon. Like Camelopardalis, Lynx and Leo Minor, Monoceros was imaginatively created within the past four centuries to fill in a blank area and requires a dark sky to trace its shape. A drop of the pure might help your imagination but not your eyesight. Happy Saint Paddy's Day.
This Week in the Solar System
Saturday's sunrise in Moncton is at 7:30 am and sunset will occur at 7:26 pm, giving 11 hours, 56 minutes of daylight (7:35 am and 7:31 pm in Saint John). Next Saturday the Sun will rise at 7:16 am and set at 7:35 pm, giving 12 hours, 19 minutes of daylight (7:22 am and 7:40 pm in Saint John). At 6:58 pm on Wednesday, March 20, the Sun crosses Earth's equator to begin spring in the northern hemisphere. The day when we are closest to having exactly 12 hours of sunlight is actually March 17.
The Moon is full on Wednesday, less than four hours after the equinox. Throughout the week we see Venus, Saturn and Jupiter stretching from the east across a third of the sky before sunrise. For 45 minutes beginning at 6:05 Monday morning, a telescope or maybe even binoculars will show an oddity at Jupiter. Only one of its four large moons will be visible until one of them emerges from behind the planet. The other two are in transit, passing across the face of Jupiter. Mars edges toward the Pleaides star cluster in the evening sky, and beginning late in the week we once again have a two-week opportunity to view the zodiacal light reaching from the western horizon toward Mars about an hour after sunset.
The March meeting of RASC NB, the provincial astronomy club, will be held at Moncton High School on March 16 at 1 pm. All are welcome.
Questions? Contact Curt Nason.