~July 5 – 6, 2019~
COW Mactaquac Star Party
(Camping & Observing Weekend) Mactaquac Provincial Park
~For updates see RASC NB-COW Mactaquac Star Party~
~Saturday, July 6 @ 7pm~
Meeting of the Saint John Astronomy Club
Rockwood Park Interpretative Centre
---
Chris Curwin Recognized by RASC for Outreach~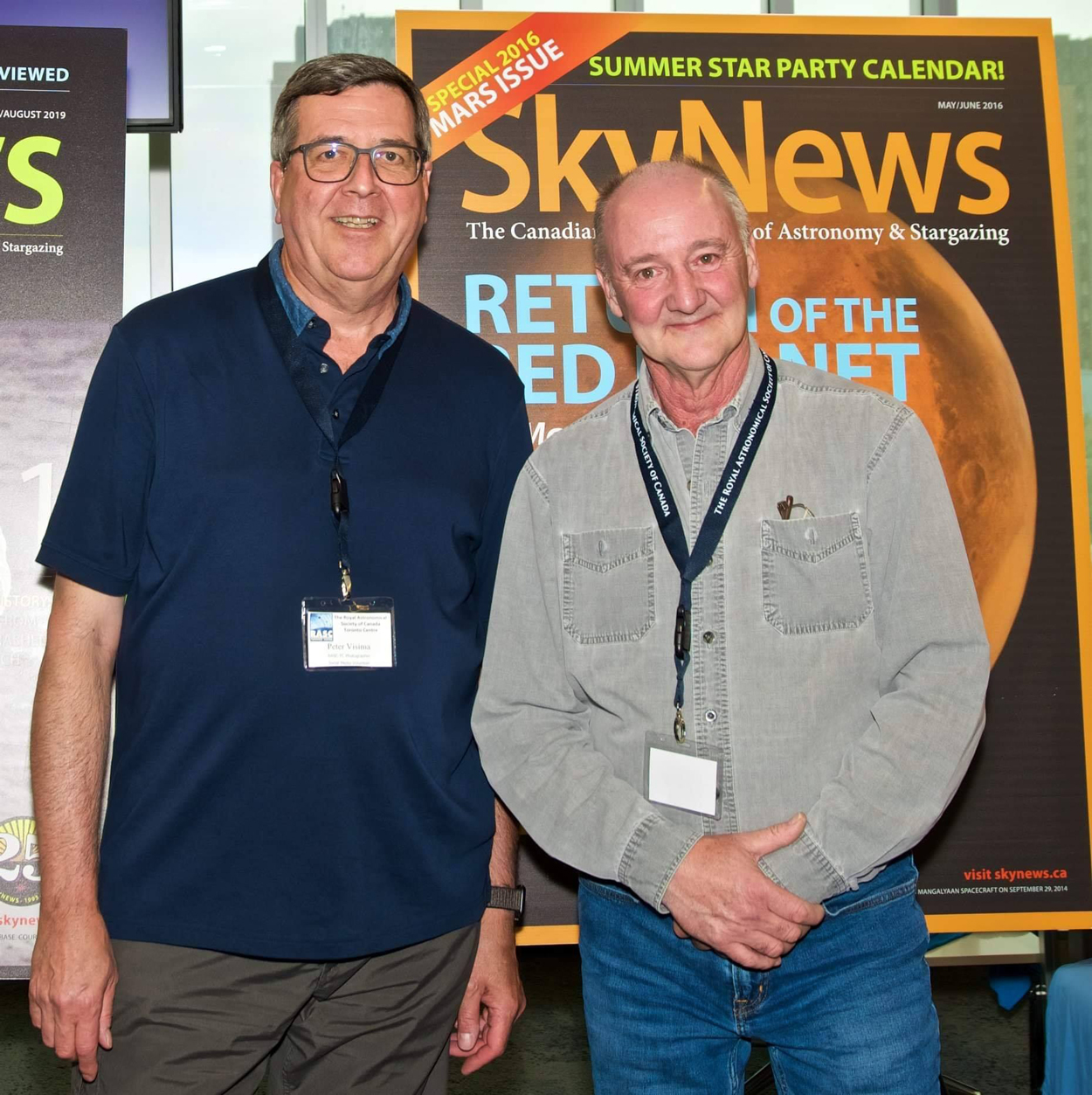 Chris Curwin of Astronomy by the Bay has been awarded the Qilak Award for outstanding outreach efforts in 2018 . "The Qilak Award / Prix Qilak is intended to recognize individual Canadian residents, or teams of residents, who have made an outstanding contribution, during a particular time period, either to the public understanding and appreciation of astronomy in Canada, or to informal astronomy education in Canada, and to promote such activities among the members of the sponsoring organizations. In your case, the award recognizes your exceptional outreach activities."
Well done Chris! We are all fortunate to have you!
Emile Cormier's image up for Reader's Choice~
This image by Emile Cormier of the Whirlpool Galaxy, a face-on sprial galaxy also known as Messier 51 in the constellation Canes Venatici, is up for the 2019 SkyNews.ca Reader's Choice Awards. You can vote for this image (or another favourite) by clicking here or on the image below. Even if you don't vote, the images taken by Canadians are astounding, and it is worth clicking on the "Full post with image details" to see where and what equipment was used. Voting closes June 30.
Emile captured this image through 2 1/2 hours of exposure in Sainte-Anne de Kent, New Brunswick. Nice work Emile!
Star Party season kicks off at Kouchibouguac~
Photo of the Cygnus region of the Milky Way, taken by Paul Owen at the RASC NB Kouchibouguac Spring StarFest on June 7 – 8. This Dark Sky Preserve is one of the most diverse National Parks in North America. Next up: COW Mactaquac Star Party July 5 – 6.
~For an overview of all Star Parties see our Star Parties in New Brunswick page or visit RASC NB Star Parties.
Monthly Messier Observing~
Messier Objects are beautiful through binoculars (look for the fuzzy patch) and can be stunning through a telescope. Here are some for June provided by Curt Nason. You can also view targets for December, January,  February, March, April and May.
RASC NB Horizon Spring 2019 Newsletter is here~
Beautiful photography, a visit to the OzSky Star Safari in Australia, activities during Astronomy Week, going to Middle School, a great interview with with an elementary school teacher, and more. Check out the Horizon Spring 2019 Newsletter.
Hampton Star Party a Success~
Despite clouds first time observers were treated to some lunar delights at the first ever Hampton Star Party at Dutch Point Park on May 11, which was also International Astronomy Day. A great location, this park will be the setting for more public observing in the future. Many thanks to the Town of Hampton for making everyone feel welcome. See our page for more pics.
Mini Star Party at Saints Rest Beach~
Members of the Saint John Astronomy Club joined Chris Curwin of Astronomy by the Bay at Saints Rest Beach in Saint John on the evening of May 6. You can view more photos at Mini Star Party at Saints Rest Beach. [top~Paul Owen, below~Trudy Almon]

RASC NB Photos of the Month~
Click any pic above to view the monthly photo collections submitted by RASC NB astrophotographers across New Brunswick. No shortage of talent here! Many thanks to Emile Cormier of the RASC NB for putting them together and to all the contributors. Emile also has an interesting website of his own images and sketches at emilecormier.net.
Beginner's Astronomy Course Wraps Up~
 The Beginner's Guide to Astronomy Course wrapped up on March 27 with a photo contest draw, raffle draw, and a Q&A session. This follows Phil Webb lending his experience using binoculars, Curt Nason presenting Starhopping Through the Constellations, Paul Owen on Getting that Perfect Picture, Mike Powell's Choosing the Right Equipment, and Chris Curwin giving an Introduction to the Night Sky at the opening session.
Course: A Beginner's Guide to Astronomy
Presented by: Astronomy by the Bay & Saint John Astronomy Club
When: Wednesdays, February 20, 27, March 6, 13, 20, 27
Times: 6:30 – 8:30pm
Where: Rockwood Park Interpretative Centre
Cost: Free
Registration: by email to Chris Curwin
Facebook: click here for the FB event.
Description:
February 20:  An Introduction to the Night Sky~with Chris Curwin
February 27:  Choosing the Right Equipment~with Mike Powell
March 6:  Getting That Perfect Picture~with Paul Owen
March 13:  Starhopping Through the Constellations~with Curt Nason
March 20:  Using Binoculars~with Phil Webb
March 27: Course wrap-up, photo contest draw, raffle draw,  Q&A
April ?: Follow up evening under the stars at Saints Rest Beach
See our page for more details.
Impact Craters and the Younger Dryas Cold Period~
In March 2019 Phil Webb and Matt West of the Saint John Astronomy Club gave joint presentations on Impact Craters and the Younger Dyras Cold Event at the SJAC monthly meeting. You can view the page with links to their presentations here.
Time Lapse Presentation~
In case you missed it, Tom Raithby's Night Time Lapse Photography presentation is now available. Click the pic or link above to view. This was part of the Night Time Imaging with Paul Owen course that was offered in November. The Course was free, and offered by Paul Owen and the SJAC. 
What you need to know for night time imaging from start to finish~
November 28 was the last evening of this four week Course. Guest speaker Chris Curwin spoke on taking night sky images with your cell phone, and Paul Owen gave a great demonstration of using an iOpton SkyTracker with a camera. Previously Jim Stewart had also given a talk on 360° Panoramic Night Sky Photography.
This course covered all aspects of photographing the night sky, from selecting equipment that is right for you, to taking images and processing. Please see page for details.
Explore the Universe Astronomy Course~
The Explore the Universe Course concluded on Wednesday, October 24 with a great rundown on the life history of a star and an overview of some Deep Sky Objects. This course was offered by Curt Nason and the SJAC, and will be followed up by Night Time Imaging with Paul Owen in November.
This course was based on the Explore the Universe beginner's observing program of the Royal Astronomical Society of Canada (RASC). By locating, observing and recording 55 of 110 objects you can receive an Explore the Universe certificate and pin, and you do not have to be a member of the RASC.
This can be achieved using only your eyes and binoculars, although a small telescope might be required to observe all 110 objects. Although the Course is now over, you can still participate.
What you need:
RASC Explore the Universe Program Requirements.pdf
RASC Fillable Application Form.pdf
Optional~ Explore the Universe Guide Book (2nd Edition)
Overview~RASC RASC.CA/Explore the Universe.
Note: You can view recaps of each  four evenings on our page.
Questions? Contact Curt Nason. 
National Astronomy Day at Irving Nature Park~
National Astronomy Day 2018 was observed at Irving Nature Park on September 14. About 135 enthusiastic stargazers observed the Moon, Venus, Jupiter, Saturn and other celestial wonders.
Were you there? More pics at National Astronomy Day 2018 at Irving Nature Park.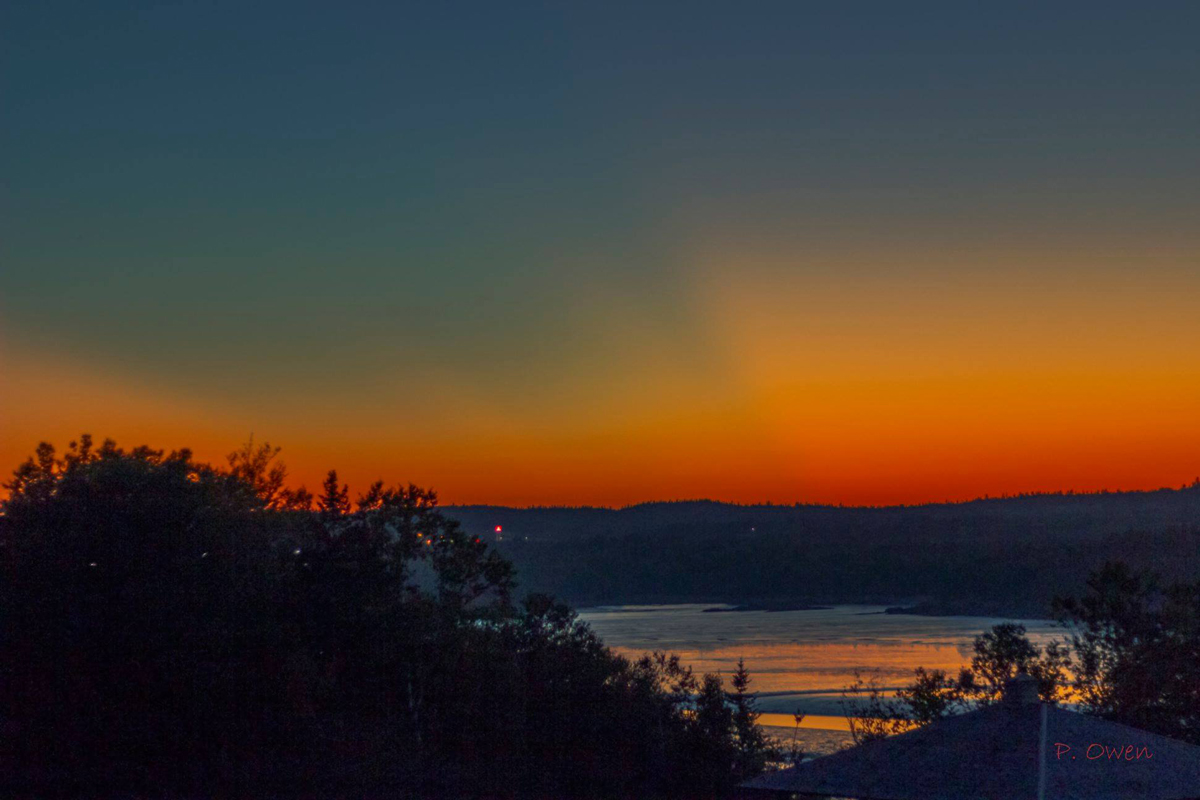 Above~ Paul Owen captured the beautiful sunset that was a prelude to good, clear skies. The event ran from 7:30 to 11:30pm.
Astronomy for Everyone~
Go for a walk on the beach, have a look at the stars.
Above–telescopes set up at Saints Rest Beach in Saint John for public viewing.  Just check the fb page of Astronomy by the Bay to see if anyone is going on a clear night.
Spectacular skies for Mt. Carleton Star Party~
Paul Owen captured the night sky at the 2018 Mount Carleton Star Party. On the first night, the sky was so dark the Milky Way was casting a shadow on star maps.
.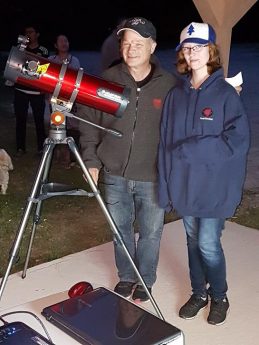 And congrats to Amber Maillet–winner of the Celestron Astromaster 130 AZ generously donated by All Star Telescope.
The Kepler Space Telescope & The Search for Life~
One of the best things about SJAC monthly meetings are the presentations. Rob Leathley gave a rather mind blowing presentation The Kepler Space Telescope and followed it up with The Search for Life~Part 1 and The Search for Life~Part 2. Good stuff.
Handy Guide for Star Pronunciation~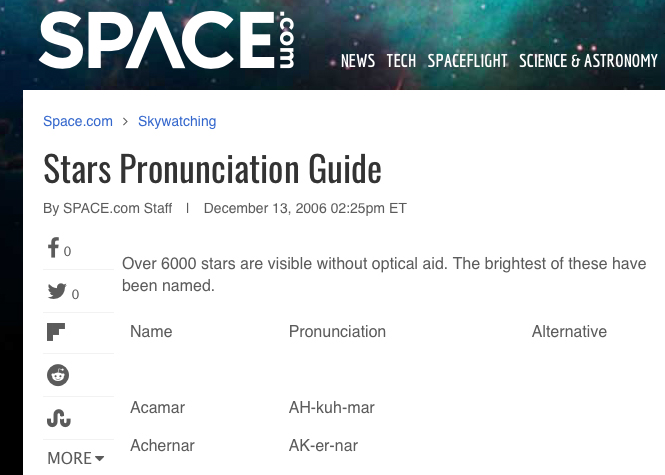 Ever wonder how to pronounce some of the stars? Click to pic above
Making Time Lapse Photographs of the Night Sky~
Tom Raithby gave a presentation on Night Time Lapse Photography at the Photographing the Milky Way session of the Photographing the Night Sky series in November 2017. You can view it here.
Below~ the Night Time Lapse Photography presentation at Imaging the Night Sky with Paul Owen in 2018. Click the pic to view.
Introduction to 360° Panoramas of the Night Sky~
Jim Stewart gave a presentation Making 360° Panoramas of the Night Sky at the Choosing the Right Equipment session of the Photographing the Night Sky series on November 21, 2017. You can view it here.
Using "Sign Posts" to Navigate the Night Sky~
Constellations in our night sky can serve as "sign posts"… showing the way to other constellations and objects. One of the best is "The Big Dipper"… in Ursa Major. More…
Special Eclipse Edition of the Horizon Newsletter~
A great recap of the August 21 eclipse is captured in a special Eclipse Edition of the RASC NB newsletter Horizon. It includes experiences from all across the Province plus some members who were lucky enough to go to the States. By Curt Nason. Good stuff. 
In Saint John, about 700 people showed up to witness the partial solar eclipse of the Sun at Irving Nature Park and Rockwood Park Bark Park.
Were you there? Lots of pics on our Partial Solar Eclipse page.
A different kind of Outreach~
A Facebook Live feed provides a unique opportunity for people across Canada and the globe to look through telescopes. Chris Curwin from Astronomy by the Bay has been sharing his Facebook Live views since 2017 and the results are astounding. Over 325,000 viewers from April 2017 to June 2019! If you're curious, you can view the figures on our Stats page.
Member Photos~
Astounding images by Paul Owen~
Above– The Heart Nebula in the Constellation Cassiopeia, using a Stellarvue 105mm refractor telescope, modified Canon T3i camera, Skywatchers EQ6 Mount, guided with PHD, 30x300sec images, stacked and processed with photoshop.
Below– The North American and Pelican Nebula in Cygnus. Taken with Canon T3i and Canon L series 200mm F4 lens.

Stargazing is Like a Box of Chocolates~by Curt Nason
A memorable line from the movie Forrest Gump compared life to a box of chocolates; you never know what you're going to get. Although the night sky is full of predictable observing targets and events, it is the unexpected treasures that make stargazing so enjoyable.   Continue…
Free Astronomy Workshop Info now Available~

The Free Astronomy Workshop Series in early 2017 proved a success. You can access almost all of the information presented in the Series here in pdf form:
Telescope Basics
Imaging the Moon
Astrophotography~Equipment
Astrophotography~Settings
Astrophotography~Images
These Free Workshops were hosted by Paul Owen and the SJAC. You can still ask questions about anything you are curious about or need clarification. Contact the host, Paul Owen. Continue… Free Astronomy Workshops.
Note: Paul also hosted the Fall astronomy workshop series Photographing the Night Sky in November 2017.
Stuff you can use~

New or old to Astronomy, you can usually find some useful information in Members' Contributions. Check out Matt West's Using Telescope Filters and Mike Powell's Finders and How to use Them and Equipment Basics.
Astronomy by the Bay~

One of the more interesting things you'll find in Saint John is "that guy on the beach with a telescope" at Saints Rest Beach. Astronomer Chris Curwin practices the art of Sidewalk Astronomy, and calls his efforts Astronomy by the Bay. Above is a 360 panorama of a typical June evening beside the Bay of Fundy.
He clocked an amazing 3.393 people to his scope(s) in 2017, and is often joined by other astronomers. You can check his FB page to see if he is going there tonight, and you can often take a pic with your phone through the scope.  Check out the 2017 Thank You Video from Chris.
Learning the Night Sky Hints with Chris Curwin~

Learning the night sky can be a very rewarding experience… and today more than ever, we have many tools to guide us at our fingertips.  More..
Other Interesting Astronomy Clubs~
Got cabin fever? Housebound? Why not take a trip across Canada checking out a few this country's astronomy clubs? Here are just two from the full list you can find at SkyNews.ca.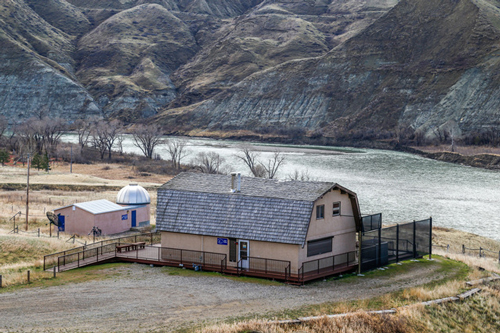 Top~ The Oldman River Observatory of the Lethbridge Astronomy Society. Below~ Southeastern view from the annual Mt. Kobau Star Party site of the Mt. Kobau Astronomical Society near Osoyoos, British Columbia.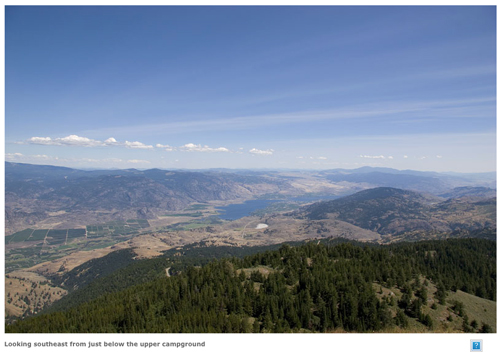 Two Great Reasons to Join the RASC
For anyone curious about the night sky, joining the RASC can be a very rewarding experience. You don't even need a telescope, just your interest. Among other benefits, a yearly Membership includes the well sought after Observer's Handbook, now in is 109th year, the popular Canadian astronomy magazine SkyNews, and digital access to the bi-monthly Journal of the RASC (login required). The Handbook and SkyNews alone can make membership worthwhile.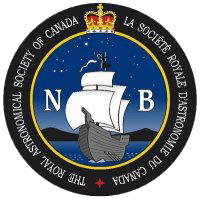 A portion of the yearly membership fee goes to the Centre of your choice to help finance local activities and education. Our local is RASC NB New Brunswick Centre. If you aren't sure, or are simply curious, ask someone at your local Astronomy Club to borrow a previous year's Handbook. You'll see why it is found in observatory control rooms and astronomers' reference shelves worldwide.
Clear Sky Clock ~
The Clear Sky Clock is an extremely useful tool for Astronomers. It is used to predict observing conditions and has been proven to be extremely accurate. For more information or details on how to interpret, please visit the Clear Sky Clock home.
Click on pic below for the current forecast. Clicking on the squares yields more information.



The SJAC meets the first Saturday of every month @ 7pm in the Rockwood Park Interpretation Centre in Saint John. The meetings are always informal and are open to anybody interested in talking about Astronomy. All are welcome–no experience necessary!
---