Welcome to the Saint John Astronomy Club
~Sat. Feb 4 @ 7pm ~ SJAC meeting at the Rockwood Park Interpretation Centre
~Wed. Feb 8 @ 6:30-8:30pm ~ 2nd (of 6) Free Astronomy Workshops, The Old St. George Restaurant, hosted by SJAC & Paul Owen
Free Astronomy Workshops a Hit!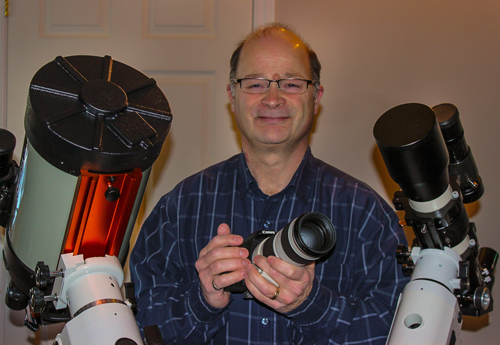 The Saint John Astronomy Club has begun our "FREE" workshops on all aspects of astronomy and was well attended. The 2nd one in the series will be  Feb. 8 at The Old St. George Restaurant on Watson St. West, Saint John, from 6:30 to 8:30pm. The free monthly workshops are hosted by Paul Owen and will cover Telescope Basics to AstroPhotography over a six month period.   More…
Astronomy by the Bay
One of the more interesting things you'll find in Saint John is "that guy on the beach with a telescope" at Saints Rest Beach. Astronomer Chris Curwin practices the art of Sidewalk Astronomy. He clocked an amazing 2,439 people to his scope(s) in 2016, and is often joined by other astronomers. You can check his FB page to see if he is going there tonight. More.
Stuff you can use~
New or old to Astronomy, you can usually find some useful information in Members' Contributions. Check out Mike Powell's Finders and How to use Them and Astronomy Equipment Basics.
2 Suns Colliding = Visible "Boom Star" 2022
A collision of two suns that took place 1,800 years ago will create a visible 'Boom Star' in 2022. "Before their collision the two stars were too dim to be seen by the naked eye, but in 2022, the bright burning light from the red nova that was created will be visible to the naked eye in the constellation Cygnus." More…
 "I'll have a double-double and a Pluto, please."
Great article by science journalist and author Lee Billings about driving through a Scaled Solar System highway in Maine. Mr. Billings is author of Five Billion Years of Solitude: The Search for Life Among the Stars (2013). SJAC member Len Larkin also wrote/presented about Planet Walks & Planet Drives in Scaled Solar System Models.
Clear Sky Clock ~
The Clear Sky Clock is an extremely useful tool for Astronomers. It is used to predict observing conditions and has been proven to be extremely accurate. For more information or details on how to interpret, please visit the Clear Sky Clock home.



The SJAC meets the first Saturday of every month @ 7pm in the Rockwood Park Interpretation Centre in Saint John. The meetings are always informal and are open to anybody interested in talking about Astronomy. All are welcome–no experience necessary!