~Saturday, April 29, 2017, 9 – 11pm~
Astronomy Day in Rockwood Park
Join us for Nighttime Observing
Check out different kinds of telescopes
The Bark Park, Rockwood Park
Fisher Lakes Dr., off Hawthorne Ave. Extension
~Saturday, May 6, 2017, 7pm~
Meeting of the Saint John Astronomy Club
Rockwood Park Interpretation Centre
---
Astronomy Day in Rockwood Park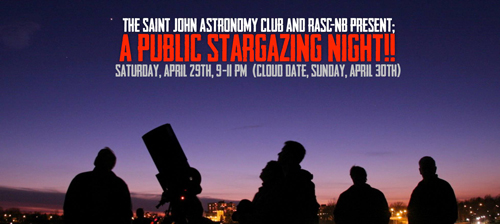 Celebrate International Astronomy Day with members of the Royal Astronomical Society of Canada and the Saint John Astronomy Club! Several telescopes will be set up for observing the treasures of the night sky. See craters on Moon, Mars, and Jupiter with its cloud belts, 4 moons and a giant storm called the Great Red Spot. As darkness sets in we will see star clusters, galaxies millions of light years away, and an interstellar cloud where stars are forming called the Orion nebula.
Join us for this Public Stargazing Event at the Rockwood Bark Park on Saturday, April 29 from 9 – 11 pm.  The astronomers will be happy to point out the constellations and answer your questions about their telescopes and the night sky.
More info– Facebook Event and Astronomy Day in Rockwood Park.
Astronomy by the Bay~
One of the more interesting things you'll find in Saint John is "that guy on the beach with a telescope" at Saints Rest Beach. Astronomer Chris Curwin practices the art of Sidewalk Astronomy. He clocked an amazing 2,439 people to his scope(s) in 2016, and is often joined by other astronomers. You can check his FB page to see if he is going there tonight. Continue…
Astrophotography: Part II ~focus of 4th Workshop
The 4th in the series of Free Astronomy Workshops was Wednesday, April 12 at the Interpretation Centre, Rockwood Park.


For this Workshop the Theme was Astrophotography: Part II –Using your DSLR, Nikon and Cannon free software, shooting Star Trails, the Milky Way, advantages of a modified DSLR, etc. [photo above taken by Paul Owen].
Also included was Star Parties, what they are, when they are. Weather did not permit Observing after.
The Free Workshop was hosted by Paul Owen and the SJAC. Next Workshop will be on Wednesday, May 10. Questions? Contact the host, Paul Owen.    More…
Star Parties in New Brunswick~

Above~ Click to watch the CBC Land and Sea episode The Night Sky featuring our own Fundy Star Party in 2016 and two other Dark Sky Sites in Nova Scotia. Film feature includes interviews with members of RASC.NB and the SJAC. About 22 minutes. Good stuff.

Above~ The night sky as seen from the Mount Carleton Star Party
Below–Setting up at the COW Mactaquac (Camping and Observing Weekend) Star Party.
RASC.NB (Royal Astronomical Society of Canada-New Brunswick Centre) works with Parks Canada and Parks New Brunswick to bring you five Star Party experiences in settings that can be nothing short of spectacular.  Continue… Star Parties in New Brunswick.
Spring Outreach Season Begins~
As Spring 2017 arrives we start to say goodby to the winter sky, the incredible beauty of the Winter Constellations, and a very active Winter Outreach Season with 73 Outreach Events, reaching 2583 people and including 439 volunteer hours. Contact the SJAC if you would like to see us at your school or organization this Spring. More… Outreach Events, pics on Outreach~Spring 2017, Outreach~Winter 2016/17, Outreach~2016.
Learning the Night Sky~

Learning the night sky can be a very rewarding experience… and today more than ever, we have many tools to guide us at our fingertips.  More..
Event Horizon to look at Centre of Our Galaxy~

History could be in the making as powerful telescopes from all over the world link up to create an earth size telescope to look at the Black Hole at the centre of our Galaxy.    More… BBC, PBS, Quirks & Quarks, Wiki, Event Horizon.
NASA Announces Discovery of 7 Earth Size Planets~

NASA Spitzer Space Telescope reveals largest batch of Earth-size, habitable-zone planets around a single star. Named the TRAPPIST System after the TRAPPIST telescope in Chile that originally discovered the system and three of the planets, scientists around the world plus NASA's Spitzer have increased that number to seven.

Above~ Unless you have one of these in your backyard, you are unlikely to see it. Continue…
Member Photos~
Photos by Alec Gordon near St. Martins, NB. Starry Trees, the Cresent Moon, and the Orion Nebula.
Stuff you can use~
New or old to Astronomy, you can usually find some useful information in Members' Contributions. Check out Mike Powell's Finders and How to use Them and Astronomy Equipment Basics.
Excellent Newsletter from RASC New Brunswick~
The Horizon Winter 2017 newsletter is out. You can also view more on our Newsletters & Brochures page.
Because Outreach is a Sharing Experience…
Most of us are familiar with sharing photos and Facebook posts from our homes or mobile phones. RASC NB, the SJAC and other members of RASC across Canada take sharing to a whole other level. They take their time, energy and equipment to share the astounding wonder of what is in the night sky right above us.
Whether it be a large public event or a small private gathering like the one shown here, Outreach enriches the lives of everyone. More…
Other Interesting Astronomy Clubs~
Got cabin fever? Housebound? Why not take a trip across Canada checking out a few this country's astronomy clubs? Here are just two from the full list you can find at SkyNews.ca.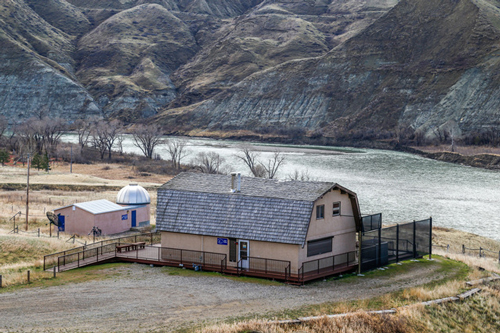 Top~ The Oldman River Observatory of the Lethbridge Astronomy Society. Below~ Southeastern view from the annual Mt. Kobau Star Party site of the Mt. Kobau Astronomical Society near Osoyoos, British Columbia.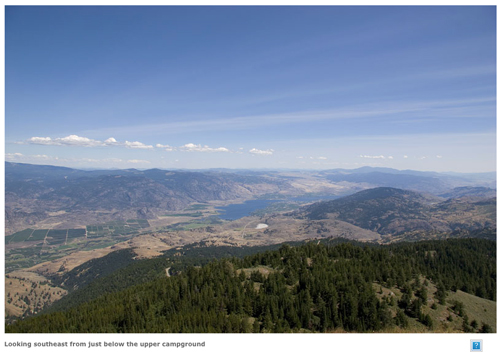 Good Turnout for Snowshoe Walk~

With the full moon falling on the weekend and a clear sky, there was a beautiful Moonlit trail to Sheldon Point in Irving Nature Park via snowshoes. As a special bonus, there was also a penumbral lunar eclipse, as seen below captured by astronomer and photographer Paul Owen. Five members of the SJAC and RASC.NB were on hand with telescopes.  More…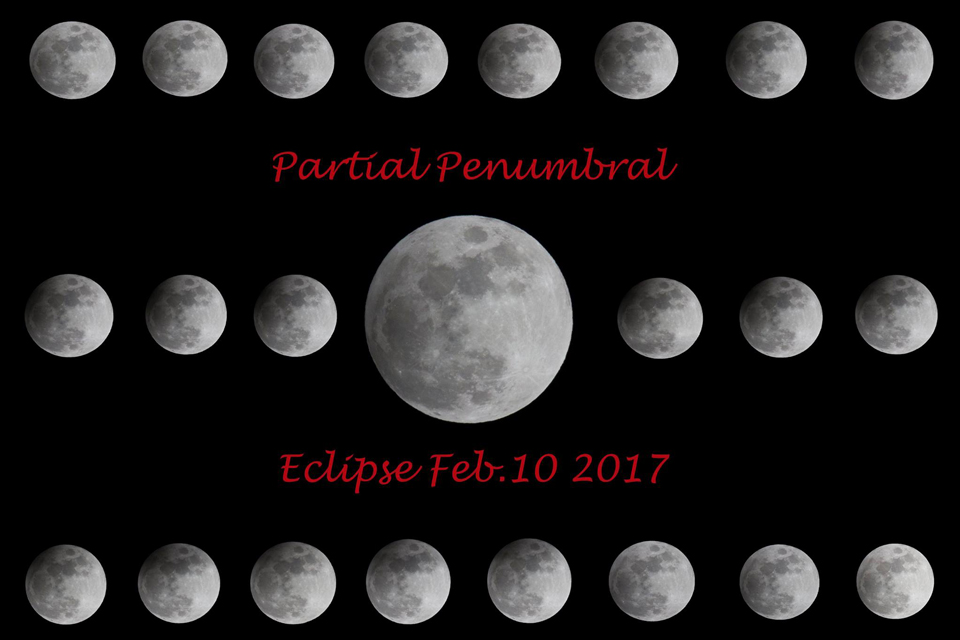 Cassini -Close views show rings unprecedented detail
NASA- "After nearly 13 years studying Saturn's rings from orbit, the Cassini team has a deeper, richer understanding of what they're seeing, but they still anticipate new surprises."    More…
  "I'll have a double-double and a Pluto, please."
Great article by science journalist and author Lee Billings about driving through a Scaled Solar System highway in Maine. Mr. Billings is author of Five Billion Years of Solitude: The Search for Life Among the Stars (2013). SJAC member Len Larkin also wrote/presented about Planet Walks & Planet Drives in Scaled Solar System Models.
Two Great Reasons to Join the RASC
For anyone curious about the night sky, joining the RASC can be a very rewarding experience. You don't even need a telescope, just your interest. Among other benefits, a yearly Membership includes the well sought after Observer's Handbook, now in is 109th year, the popular Canadian astronomy magazine SkyNews, and digital access to the bi-monthly Journal of the RASC (login required). The Handbook and SkyNews alone can make membership worthwhile.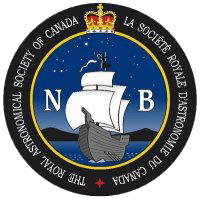 A portion of the yearly membership fee goes to the Centre of your choice to help finance local activities and education. Our local is RASC NB New Brunswick Centre. If you aren't sure, or are simply curious, ask someone at your local Astronomy Club to borrow a previous year's Handbook. You'll see why it is found in observatory control rooms and astronomers' reference shelves worldwide.
Clear Sky Clock ~
The Clear Sky Clock is an extremely useful tool for Astronomers. It is used to predict observing conditions and has been proven to be extremely accurate. For more information or details on how to interpret, please visit the Clear Sky Clock home.
Click on pic below for the current forecast. Clicking on the squares yields more information.



The SJAC meets the first Saturday of every month @ 7pm in the Rockwood Park Interpretation Centre in Saint John. The meetings are always informal and are open to anybody interested in talking about Astronomy. All are welcome–no experience necessary!
---